Metro25's Poor Mans SuperDish Setup
Click on Photos for Full Size Image
---
The two photos above are just prototype SuperDishes. The one on the right is an actual prototype from Team Summit 2003. The photo on the left is a prototype SuperDish which I made out an old Directway Dish. Both of these Dishes are non-working prototypes. I just thought it would be cool to have an actual SuperDish on display in my showroom to show to customers.
---
Above are just some general pictures of my DISH Network Antenna Farm showing all the satellites I can currently recieve. Since I really don't have a real SuperDish, in the meantime I have decided to retrofit an old Primestar Dish
---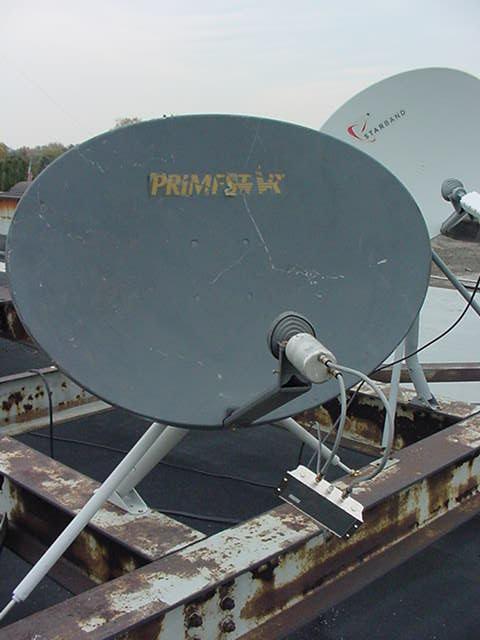 The above pictures are actual pictures of my Poor Mans SuperDish. Basically its an old Primestar Dish pointed towards AMC 2 at 105 Degrees West. Since the old Primestar LNB's required a seperate cable for the Odd and Even Transponders, I had to run it through a 4-way multi-Switch to be able to take advantage of 14/18 volt switching. It was either run it through a multi-switch, or I would have had to change the entire LNB on the Dish.
---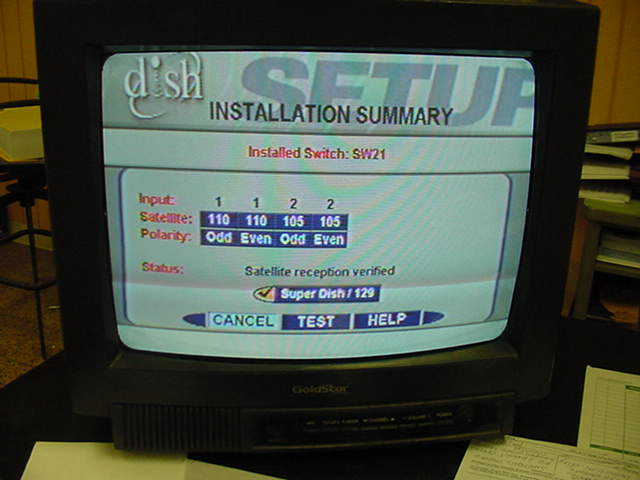 '
The following three pictures are just to prove that I had this setup working. I really didn't have a chance to play around with this setup that much to see what was available, the only channel that I can seem to get right now is I believe channel 7000 which shows the screen congratulating me for having a SuperDish System.
The next step is to run everything through an Sw64 to see if I can pick up 119/110 and 105 at the same time. The only thing I was a bit dissapointed by was the fact that the signal quality was very low. I was getting signal readings in the very low 50's to the high 60's depending on which transponder I was on. Im just not sure if this was normal, or if this setup required a larger Dish or I could possibly have had a bad LNB.
---
©1998-2003, Metro25 Of Detroit Inc, All Righs Reserved.
Page last updated October 25th, 2003